Things are beginning to move now and more traffic is on the roads. Bus services are increasing but it does seem that coach services will not resume before July 1st, a date currently announced by National Express.
A significant number of resurfacing works have taken place but Oxford has remained largely deserted in recent weeks as the pictures from Jack Cooper shown below reveal.
Many thanks to Jack for sharing those pictures.
Cycle lanes and pavements will be widened and bus stops improved during the works.
It is part of an Oxfordshire
County
Council scheme to make the frequently-gridlocked route easier to use.
Works will begin this week at the west end of the road outside the entrance to Seacourt Park and Ride.
The first phase of the project will cover a 250 metre stretch between the park and ride and city centre. Some road will be re-tarmacked and some traffic lights replaced.
After this portion of the project is complete, five more phases will take place at the Westminster Way junction; the A34/A420 junction; between Lamarsh Road and Prestwich place; Prestwich Place to Binsey Lane, and Eynsham Road to Poplar Road.
The council, which ran a consultation on the proposed scheme last year, said it hoped to cut queues.

The project aims to encourage greater use of more sustainable modes of transport - buses, cycling and walking – ease congestion, reduce bus journey times so buses have an advantage over general traffic, provide a safer, more attractive route for cyclists and pedestrians, and cut emissions and improve air quality.



Northcord Models are producing a Gold MMC of Stagecoach Oxfordshire.
Due shortly is a lovely model of a Gold MMC 10786 following up on the picture taken by Danny Chan with my assistance.

Seen with your Editor at the wheel in 2017.
Buses in the townscape by Tony Bungay



Arriva 5466 in Exchange Street, going out of service back to it's garage, a Bus in Townscape, with part of the Chilterns in the distance on May 24th.

A nice end to the Editorial this week.

"Brand the Bus!" Winners 2020
Oxford Bus Company have confirmed Home-Start Oxfordshire as the winner of the eagerly contested "Brand the Bus!" competition.
The charity has been invited to work with Oxford Bus Company to design a bus wrap featuring the brand colours, logo and messages of the organisation. It was selected by a judging panel from a top ten group of good causes, which had earned the most public votes from 32 original entries.
Luke Marion, Oxford Bus Company Finance and Commercial Director welcomed the team from Home-Start Oxfordshire to the depot this week to discuss the designs, which are expected to be unveiled later this year.
Home-Start Oxfordshire is a voluntary organisation that provides welfare support to families with at least one child under five years of age. Volunteers offer advice and support in the homes of families who are having difficulties managing parenting for a variety of different reasons.

Oxford Hub and Yellow Submarine were highly commended by the judging panel, which included an external partner. Some 6,130 members of the public voted for the good causes that entered the competition.

Phil Southall, Oxford Bus Company Managing Director, said: "Congratulations to Home-Start Oxfordshire and to everyone who entered. Again, it was a challenging task selecting the overall winner from so many fantastic good causes and high-quality entries."

The Winning Entry on bus 364 from Oxford Bus. Phil Southall.
Transport Secretary announces £283 million funding for public transport
Transport Secretary Grant Shapps has announced the government will pump £283 million into funding public transport.

Mr Shapps said the funding will go on bus and rail travel, to make adjustment to vehicles, signage and deep cleaning, adding that transport services will be increased, however people should only use public transport if it is essential.

To make it easier for people to choose alternatives to public transport, a series of measures are being rolled out to encourage more people to cycle instead of use trains and buses.


Bus services in Oxfordshire and surrounding areas increasing from June 1st
Bus service levels increasing from June 1st 2020
•Oxford Bus Company, Thames Travel and Stagecoach increasing some services from Monday 1st June to support return to work
•Enhanced cleaning regimes and social distancing guidance measures in place
Leading Oxfordshire bus operators will ramp up services next week in response to the latest government COVID-19 recommendations.Oxford Bus Company, Thames Travel and Stagecoach will introduce changes to start to increase the number of journeys during daytime hours on Mondays to Fridays from Monday 1
st June.
Customers are advised to check operator websites for full details of new timetables including changes to times to some services on Saturdays and Sundays.The increase in services is in line with the government's recovery strategy to cope with growing demand for travel as more people return to work following the Coronavirus pandemic. It comes after a huge reduction in bus services during full lock down, with special services designed to ensure that essential key workers such as NHS staff, teachers and those in the food supply chain could get to and from work.
Oxford Bus Company, Thames Travel and Stagecoach have implemented reduced vehicle capacities to help maintain social distancing on-board for people who need to travel. This includes taking some seats out of use and customer signage to encourage people to sit apart. Customers are still asked to pay using contactless payments or purchase tickets from the apps available.
All three operators have also introduced and are maintaining enhanced cleaning regimes on all vehicles. The regimes are carefully monitored, with a continued greater focus on high-touch areas. Extra PPE and cleaning equipment have also been provided to colleagues to ensure drivers and customers stay safe during this time.
From June 1st, all variations of the SmartZone ticket will be valid for journeys made in the city on all three operators services, however the temporary ticket acceptance of single operator tickets brought in to mitigate the reduction in the services available at the height of lockdown will be withdrawn.

Phil Southall, Managing Director of Oxford Bus Company and Thames Travel said: "We've introduced a number of measures to give people the confidence to return to work and to travel on our buses. We're increasing our services to respond to the expected increases in demand as lockdown is gradually eased, and to ensure our customers can remain two metres apart wherever possible. I'd like to thank my colleagues for consistently doing a first-class job in difficult circumstances and our customers for their continued patience and understanding."

Chris Coleman, Managing Director of Stagecoach said: "The safety of our customers and employees remains our top priority. With the extensive measures we have taken and the support of our passengers, they can be confident our buses will be clean, safe and ready to go. We are hugely proud of the fantastic efforts of all of our employees in recent months to deliver services to keep other key workers moving. Buses are going to continue to play a crucial role in the country's recovery ahead. As well as helping restart our economy, they are vital in bringing normality back to many areas of our lives."

Cllr Yvonne Constance, Oxfordshire County Council Cabinet member for Environment and Transport, said: "Coronavirus has had a significant effect on Oxfordshire's public transport system and operators have been working hard to ensure that they meet demand safely. The county council is working with the local authorities and the bus operators to ensure public safety for walking, cycling and use of the bus across Oxfordshire."A range of measures, are being planned to ensure that passengers who need to use the bus can easily plan their journeys and travel with confidence."In the coming weeks people will see the result of work that the county council has been doing with partners from the bus companies, districts and city council on plans designed to boost bus transport and sustainable modes such as cycling and walking."
For Carousel see under the heading in fleet news and on their web site.
https://www.carouselbuses.co.uk/covid-19/
Jim Wright
Once again keeping us up to date with matters Oxford! The company has introduced limits on its services earlier this week and Jim shows the changes.

May 24th - 10677 had re programmed destination blind, due to the advisory 20 seating capacity
Social distancing sticker in cab & two different notices, downstairs on the o/s. May 24th 2020.
Gavin Francis

Resurfacing work at Carfax on May 27th.

Looking North to Carfax with a trio of Oxford StreetDecks on May 27th.

Forlorn in Gloucester Green, looking very smart - 10677 is waiting time with a 2B service on May 27th.
Victoria Coach Station during lockdown from Mark Wakefield
M
ark's pictures taken around VCS give a good idea of what Covid-19 has meant to this landmark coach station.

Sammy's entrance and exit all closed off, a sad sight.

Specialist Leisure Group Limited and certain subsidiaries

The Specialist Leisure Group entered Administration on 22 May 2020. This includes names such as Shearings and National Holidays. See the link below.

All tours, cruises, holidays and hotel breaks booked with the Specialist Leisure Group have been cancelled and will not be rescheduled.
The Specialist Leisure Group operated several businesses that sold holidays and other travel arrangements under the following brand names, which have all ceased to trade, due to the impact of COVID-19.

Readers will find some pictures of Shearings coaches provided by David Beynon.

Shearings 102 Grand Tourer on April 20th 2010.

Shearings 165, 177 & 181 of National Holidays seen on January 4th 2011.

Shearings 556 & 618 seen on March 19th 2006, showing the WA logo used at that time.

Shearings 595 seen on March 23rd 2006.

Shearings Tourismo 841 seen when three years old on May 6th 2019.

Another Tourismo, this time National Holidays/Shearings 783 NH15SDH on May 29th 2018 just two years ago as you read this!
I expect we may have a few more pictures for a future issue? Many thanks to David for these excellent pictures.
Readers will remember that I forecast this eventuality some weeks ago but I am very sad to see it happen. I have many happy memories of when the first big increase happened back in the mid '60s.
A lovely picture from Jack Cooper

A lovely sign thanking bus drivers also seen in Radley caught in the lens of Jack Cooper on May 27th 2020.
So, finally for this week's Covid piece, much is changing though coach services are still some way off. Let us hope that things continue to improve.
An interesting collection of pictures from the past for this week's issue which I hope readers will enjoy.
Tony Bungay
Tony has provided an excellent selection of pictures from the 1980-2002 period

Seen in March 1998 now Arriva Leyland Atlantean/ROE 5039 sets down in Frogmoor on a 323 journey,
this long time Service until mid 1990's had been a Thames Valley later Alder Valley, the Bus originally had been London Country AN 233.

Seen at Gloucester Green is Hampshire Bus Bristol VRT 3342 working a journey on the X34 Oxford – Abingdon -Newbury – Winchester -Southampton,
in September 1984, this service which was jointly worked with City of Oxford and Alder Valley lasted until October 1986, generally coaches were used,
though Hampshire Bus did also have Leyland Nationals on a regular basis.

Red Rover Leyland National 161 works a Town Service in Kingsbury Square Aylesbury in June 1985,
This Bus had the distinction of Being London Transport LS 1, and after Red Rover was sold to Luton and District.
This Bus returned to London use with Ensign Bus, unlike many number '1s' this one did not make preservation.
I remember riding on this bus when new, I was working at Heathrow.

Spiritual successor to Red Rover must be Red Rose, seen here in September 1995 in Kingsbury Square Aylesbury,
is Leyland Tiger/ECW. Quite an up market vehicle for passengers on a service to Tesco.
This vehicle was originally Green Line TL 32. Which unlike many of it's type has kept it's ECW body.

In the early 1990's Motts Coaches operated their Yellow Buses operation, competing with Wycombe Bus on the Aylesbury – High Wycombe route
as well as providing contracted evening and Sunday journeys on the 280 along with other route,
seen leaving Aylesbury Market Square in January 1995 is a Leyland Lynx new to Atlas Bus as number 85,
when Motts sold the Yellow Bus operation to LDT the Shires this vehicle went to later becoming Arriva 3065
.

Arriva Green Line Leyland Tiger/Plaxton Paramount 4012 at Wycombe End Beaconsfield on a High Wycombe/Stokenchurch bound 290 journey.
This was in the last week of operation on this service by Arriva, small independent Magpie Travel attempted to continue the route for a while longer.

Wycombe Bus Company Leyland Olympian/ECW 236 proceeds up Castle Street High Wycombe
on local service 327 in March 1998, the vehicle was new to AERE at Harwell

Not quite what it first appears Leyland Olympian/Alexander 999 stands outside Newlands Bus station,
this Bus was originally a Demonstrator and was used by Singapore Bus services
before being purchased by City of Oxford who fitted the ECW style front lower panel.
It is now preserved under the care of Grahame Wareham.

No doubt this Bus has appeared in this newsletter, but have included picture of Arriva Volvo/Wight when New at Showbus 2002
and promoted as Bus of the Future with fleet number 2200 and in winter of 2009/10
seen in Aylesbury working local Service 2, a Route Arriva would abandon a few years later,

Lastly National Greenway 3050 working infrequent Service 65 to Leighton Buzzard in Kingsbury Square Aylesbury in February 2002,
I don't think many of these vehicles received Arriva livery (though I could be wrong!) Not long after Z and S took over this service as 165 and still operate it.
John Bristow
Some interesting pictures from the early nineties.
In order they are ;

Berks/Bucks Olympian in HW October 1990; Wycombe Bus Co. National in London Road, HW March 1991.
This must one of the very first scrolling destinations for Flackwell Heath !!!

Wycombe Bus Co. (?) National in Totteridge Road HW April 1991;

Luton & District National at HW Town Hall April 1991;

Luton & District Atlantean in London Road HW April 1991;

Luton & District Olympian leaving Eastern Street HW April 1991.
David Bell
First may I say how much I enjoy your weekly output in the Oxford and Chilterns Bus page. In recent weeks you have featured several historical photographs which has prompted me to compile a selection from a visit to Oxford which was probably in 1994.
Minibuses and Plaxton two-door Darts were in abundance as you will see. I'm sure you will recognise the locations as there were all taken in or around Oxford city centre.
One location I spent quite a bit of time at was the roundabout beyond Magdalen Bridge where you could get some nice nearside shots. I probably spent too much time here as at one point I was approached by a gentleman from an estate agents wanting to know why I was pointing a camera at their premises! He was quite happy with my explanation but I did move on shortly afterwards
.

L720JUD is no0w preserved as mentioned in a previous issue.

D122EFH by David Bell
D122 EFH was one of a pair of very unusual vehicles to enter the Swanbrook fleet. with D123 EFH being the sister vehicle. They were 1987 Bedford YMT with Plaxton Derwent B55F bodywork, with 5 speed manual gearbox. Both buses stayed in the Swanbrook fleet until 2001 and were both worked 12 and 13 hours a day regular on rural stage carriage service work around some of the worst roads in the county of Gloucestershire and beyond. They were even known to work the Tewksbury/Gloucester/Cheltenham/Oxford service as shown in the picture above by David Bell.

Leyland Leopard ex Graham's of Paisley seen with Yellow Bus in 1994
Amazing how a few pictures wet the appetite from readers and I am most impressed with the contributions this week.
Gavin Francis

MOTTS E28UNE at Stokenchurch on July 4th 2011.
See last week's issue for where it is now!
Michael Wadman
Here are a few more photos of Chiltern Queens for your historical feature. These were all taken by me and are more recent than Keith's (and not so scenic!) but I hope they're of interest.

OJO 835M - Leyland Leopard / Plaxton at Reading station on service E - 9th March 1996

BBW 22V - Former City of Oxford MS Leyland Leopard / Duple at Didcot station on service C - 10th June 1995

F344 TSC - MB 811D /Alexander, new to Allison of Dunfermline, on Henley-on-Thames town service - 24th March 1994

RFC 12T - Former City of Oxford MS Leyland Leopard / Duple at Reading station on service E - 7th December 1996

OJO 835M again – in Henley-on-Thames on 24th March 1994

XJI 4133 (formerly G118 PGT) - MB 811D / Alexander, former London General MA118, in Oxford on service 17C - 4th July 2001

D506 NWG – Former Yorkshire Traction MB L608D / Alexander at the Unicorn on Peppard Common on service E - 28th June 1997
Matt Cooper
The photos attached are from the very enjoyable summer of 2001 when I worked for OBC between July and September. I kept a diary of the buses, people, shifts etc and the whole experience was excellent if hard work with some significant hours put in! Both operators struggled for staff, although new rates of pay brought more new recruits by the time I left for Uni in the September. The rented house(though the Company) in Clive Road which was shared with 3 Scotsman who were a lively bunch to say the least! The photos all taken by me show the types of vehicle in use then. Although I was officially allocated to the '2 Road' I covered anything going! The Volvo B10B/Plaxton Verdes were excellent buses. Quick off the mark and with up to 51 seats they were good people carriers. This was also my first experience of dual door buses in service and you quickly got used to looking at the extra internal mirrors to see where people were! The ECW bodied Leyland Olympians represented perhaps the last of the 'old order' and were superbly kept. These were mainly used on 'Q buster' duties but if I could keep one out I would! The ex London General VN class went like rockets and visibility from the cab was very good. P & R duties on the 'old mans rota' were busy but usually eased by simple ticketing or 'kerbsiders' who would have already taken fares from those in the queue at the bus stop.
It was nice to work from the old depot site at Cowley Road although tricky to manoeuvre around with long vehicles ! The training fleet is shown, the ex WMPTE Lynxes replacing the Leopards. I didn't venture on to the coach work, and looking at the back of the photo of Volvo 23 at Duxford Showbus I have written exhibited by drivers Malcolm Crowe and Chris Maxfield!

The older Darts used to pull to the right when cold and braking. Ed.

I did several duties with 601 on Farnborough & Wimbledon. ED.

The Volvos were very fast and responsive buses, most enjoyable to drive. Ed.

120 was the first one to loose its Park & Ride livery. Ed.

This is the coach Chris Maxfield and I took to Showbus, Duxford.
A wonderful collection of pictures from Matt, their titles will tell details.
So, thanks to all the contributors, there is almost enough on its own without anything current!! Nice.
An interlude at Binders yard from Gavin Francis

The Ashwood fleet under lockdown SORN on May 24th.

Neales Taxis (Hussain) T630 SOA ex University of Wolverhampton at Binders Yard.

RM848 at Binders Yard on May 24th.
Binders Yard always provides some interesting items.
Adam Baker takes us around Guildford
Further measures have now been announced with regards to the easing of Lockdown in some areas, and although somewhat minor and measured, they do mean the end of the Emergency COVID-19 timetables in the area as they had been – from Monday, June 1st, several operators are increasing their service levels to 75/80% of normal times, a marked increase – therefore, I thought I would offer a further and perhaps final offering of operations in Guildford (Surrey) during this restricted period which I hope will provide continued interest for your readers – as before, I apologise for any blurring through using my phone on the move ...

Tuesday 12th May 2020
A quiet scene in Guildford Bus Station on this day, mid afternoon where the recently common sighting of a Gold
liveried bus operates the KITE Route to Aldershot – here SN66VYL (10766), an ADL Enviro 400 MMC, is seen
departing for it's trip to Aldershot.

Sunday 17th May 2020
This day was a day of substantial Rail Replacement, however, substantial didn't mean necessarily a big operation as
perhaps one might expect – however, here a Crawley Luxury coach T7MTT, a Volvo B7R Plaxton awaits a departure
towards North Camp from Guildford Rail Station on what would normally be the Gatwick Airport to Reading line.
This coach was originally with Motts Travel of Aylesbury.

Sunday 17th May 2020
Another Rail Replacement offering, this time operating between Haslemere and Woking, a section of the Portsmouth to
London Waterloo line – here GX13APK (36910), an Aldershot based ADL Enviro 200 awaits a trip on behalf of South
Western Railway from Guildford Rail Station to Woking – it is liveried for Route 3, which operates from Aldershot to
Camberley and the small aeroplane design links to the Farnborough Airshow which happens every 2 years
(although this years was cancelled).

Monday 18th May 2020
Another view of a Gold liveried ADL Enviro 400 MMC from Aldershot depot, again departing from Guildford Bus
Station of the KITE Route to Aldershot – once service levels increase again from Monday 1st June 2020, I can see these
vehicles going back to their usual allocation on the Gold Route 1 between Aldershot and Camberley/Old Dean Estate.

Tuesday 19th May 2020
Seen operating towards the Town Centre on Route 3s along Stoke Road in Guildford is Safeguard Coaches Optare Versa
YD63UZJ – this is one of the 6 main vehicles used and kept in service by Safeguard for the emergency COVID-19
operations, while the remainder of the fleet (largely coaching) has been S.O.R.N

Monday 25th May 2020
A Bank Holiday Monday, and for Guildford usually the day of the Surrey County Show each year (the Spring Bank
Holiday) – however, not this year – but operating on it's Sunday service was this Guildford (Peasmarsh) based ADL
Enviro 300, seen entering London Road in Guildford on it's Route 715 trip to Kingston.

Wednesday 27th May 2020
Originally thought to be non-operational during the emergency period, Reptons operate Route 478 between Guildford
and Leatherhead via the villages – however, it has in fact been operating on Mondays to Fridays throughout, and this
was the first time I'd seen it in operation – here SL62REP, an ADL Enviro 200 is seen operating Route 478 into
Guildford along the Epsom Road.

Friday 29th May 2020
Seen arriving from Horsham on Route 63, YJ61CJF (4206), an Arriva Optare Versa can be seen displaying Social
Distancing advice on the destination blind – this was one of a batch of 18 Optare Versa's that originally operated around
Southend-On-Sea and Shoeburyness.

Friday 29th May 2020
Route 520 only operates on Tuesdays and Fridays from Aldershot into Guildford, with a trip on Wednesdays to Woking
– here YJ14BVZ (47930), a Stagecoach South Optare Solo SR, can be seen turning into Onslow Street in Guildford –
during this COVID-19 period, this route has continued as normal.

Friday 29th May 2020
The Guildford Park & Ride Routes have been very limited in recent weeks, originally Route 400 Onslow Park & Ride
operated until the site became a drive in swab testing centre – now Route 200 Artington Park & Ride operates as seen
here utilising LJ68CZF (29106), one of Guildford's Electric Buses.
Many thanks to Adam for an interesting selection from south of The Thames.
Joel Forey
Following on from last week, here's a few more Singapore bus photos.

SBS Transit Ltd is a multi-modal public transport transport operator in Singapore operating bus, rail and taxi services.
With a majority of its shares owned by ComfortDelGro Corporation at 75%,
it was formerly known as Singapore Bus Services before rebranding to SBS Transit on 1 November 2001.

SBS3779T is a Volvo B9TL / Wright Gemini 2, new in 2014.
It is seen here working SBS Transit route 147 to Clementi interchange in April 2018.

SBS5155E is a 2009 Scania K230UB with Malaysian-built Gemilang Coachworks bodywork.
Here it's working route 129 to Tampines Concourse, pictured at Toa Payoh.

SG5445E is a Volvo B9TL / Wright Gemini 2, operated by SBS Transit.
It's seen here on Yio Chu Kang Road working route 50 to Bishan Interchange.

SBS6000L was the first Mercedes-Benz O530 Citaro delivered to SBS Transit, delivered in 2011.
The company has now got over 1000 of these buses in the fleet. Here it is working route 232, a Toa Payoh area local feeder service.

SBS8090M is a Scania K230UB / Gemilang, seen here on route 230, a Toa Payoh area local feeder service.
These services are worked from Braddell Road Depot, which is just around the corner from where this photo was taken.

SBS8877K another Scania K230UB, is seen here working route 73 to Toa Payoh Interchange.
This route, which is operated by SBS Transit's Ang Mo Kio depot, has been running since 1971.

SBS8940K, another example of SBS Transit's Scania fleet, is seen here at Toa Payoh working route 105 to Jurong East Interchange.
The bus is based at Hougang bus depot, the largest depot on the island.

SBS9801Y is a Volvo B10TL Super Olympian with Volgren Coachworks bodywork.
It's seen here at Serangoon, working route 81 to Tampines Interchange.

These buses were the first low-floor double deckers in Singapore, and were delivered in 2000-2005. The final examples of the Olympian have been retired in April 2020. However, there is one prototype B10TL Super Olympian, delivered in 2005, still in service. This bus is the only Olympian left in service in Singapore, ending 34 years' history of these buses in service.

I much appreciate these pictures from Joel, which, as they do, provide another area of interest for readers.

I know we can't at the moment but I would like to visit Singapore one day.
North of the Border with Gordon Scott - our man in Drum Brae!

St Andrew Square Edinburgh Stagecoach East Scotland Fife

routes terminating here and not using the Bus Station also

some Lothian routes part route working terminating here.

Stagecoach East Scotland Fife on X59 Edinburgh to Glenrothes

27131 - SN64OFT - Alexander Dennis Enviro 300
with local

Glenrothes depot based branding.

Lothian 476MA - SF17VNM Volvo B5TL Wright Gemini 3

seen on route 44 Marine depot based with Zoo advert are

normally on route 26.

Lovely clean wheels again. Why can't all operators do this?
May 26th
Three shots attached of Stagecoach East Scotland Fife taken today.

St Andrew Square Edinburgh X55.

26350 - YX20OFT Alexander Dennis Enviro 200 MMC.

Princess Street Edinburgh X58.

26114 - YY18TEU Alexander Dennis Enviro 200 MMC.

West End Edinburgh X59.

27127 - SN64OFO Alexander Dennis Enviro 300.

May 28th

Citylink 909 Edinburgh to Stirling started on 27th May

two workings a day.

Edinburgh to Stirling - 09.20 and 17.20.

Stirling to Edinburgh - 0720 and 15.20.

Stagecoach East Scotland Perth depot based.

Volvo B13R Plaxton Elite 54362 - YX67UPG

seen at Drum Brae Edinburgh heading into town

on Citylink 909 for 09.20 departure Edinburgh.

New to Stagecoach East Scotland Fife.
As ever, excellent pictures from Gordon. Thanks.
Fleet news and developments
Changes from June 1st can be found at the link below:
https://www.arrivabus.co.uk/coronavirus/important-service-information---beds-and-bucks/
Tony Bungay
May 23rd.
The past week despite the much reduced service pattern has thrown up a bit of variety, this is mainly down to the closure of a roundabout at a junction on the inner Aylesbury ring road which has required those Arriva, Red Rose and Redline routes running along the Oxford road to have to go on a lengthy diversion or revised routing to access their objectives, as well as other services taking a diverted route to get to the Bus Station.
Photos as follows

Just before Easter line up of Arriva vehicles in Aylesbury Depot, including Leighton Buzzard orange liveried Solo.

Former X8 Sapphire 3797 stops to pick up a passenger at Vale Park Aylesbury on Watford bound 500 April 20th

Milton Keynes Sapphire Livery 3867 heads down Upper Hundreds Way Aylesbury on the diverted section of its route to the Bus Station.
This section of road is not generally used by buses in service April 20th.

A bit of vehicle variety occurred when Streetlite 3328 appeared on an X60 working,
these vehicles have occasionally appeared on the 150 but very rare as far as I know on the X60.
Streetlite 3328 on an Aylesbury bound X60 heads along Whitchurch High street on April 22nd.

Former Enviro 400 Sapphire 5459 now in standard Bus Livery works along Exchange street Aylesbury, bound for the Bus Station on an inward 280 journey.
The best way to describe the diversion that journeys to and from Oxford have to do, is think of a square, to get to and from the Bus station
they have to do three sides of the square instead of along the bottom edge! April 23rd.

Milton Keynes 3869 also heads along Exchange Street Aylesbury on the X60 towards the Bus Station.
Not such a strange road for the X60, as all Milton Keynes bound journeys head along it the other way April 23rd.

Enviro 400 Sapphire 5466 heads along New Street Aylesbury on an Aylesbury bound 280,
it has been years since that side of the street has seen regular buses in passenger service,
though the other side of this street is a totally different matter, as it has a bus lane as part of the transport hub.
Getting a photograph here is generally difficult to say the least, and only the sizeable reduction of vehicles on the road created this possibility April 24th.

Lastly 5466 again! This time on an Oxford bound 280 in Exchange Street Aylesbury,
by the end of the day Saturday April 25th, the lengthy diversion some routes were having to make would cease as the road closure was lifted.
An excellent selection of pictures in spite some difficult lighting conditions.
Gavin Francis

Arriva 5461 with a 280 service in St Aldates on April 27th by Gavin Francis.

Arriva Trainer 9556 at Cressex Depot on May 25th by Gavin Francis.

A crew bus, seemingly out of use at Cressex depot on May 25th by Gavin Francis.
From Monday 1st June, a normal
Monday to Friday
timetable will resume on all routes with some exceptions, see link below:

https://www.carouselbuses.co.uk/covid-19/
Gavin Francis

Citaros 876 & 857 plus MB 500C 873 at Wycombe depot on May 24th by Gavin Francis.

Citaro 884 which is VOR-SORN at Wycombe depot on May 24th by Gavin Francis.

Sunday, May 24th and 420 is seen with the short working to Stokenchurch, turning of the A40 into New Road.
980 is back at Wycombe depot on May 24th by Gavin Francis.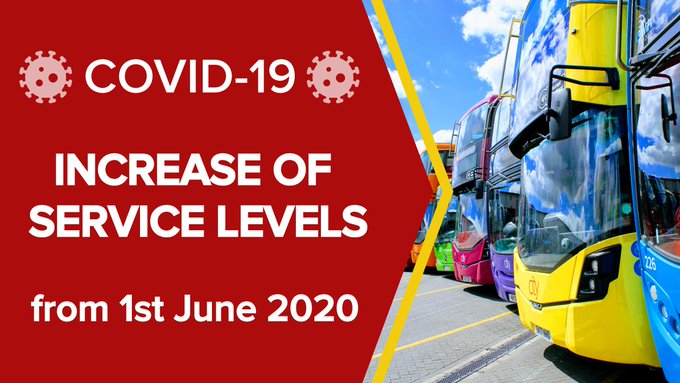 Following the government advice, from Monday 1st June, we will be increasing the number of services
and journeys we operate to match the new levels of demand and allow you to effectively practice social distancing measures:http://ow.ly/DmdP50zSksr
Route Cancellation
THE CITY OF OXFORD MOTOR SERVICES LTD Route: Oxford City Centre, Magdalen Street to Bicester Town Centre, Manorsfield Road via Heyford
Service number: 250 Service type: Normal Stopping
Effective date: July 5th 2020

Citaro 883 is seen waiting time in Magdalen Street East with a 250 road service on May 27th taken by Gavin Francis.
Jack Cooper
May 21st

StreetDeck 673 on a City4 service to Abingdon pictured outside Dunmore Farm.

StreetDeck 665 seen turning onto the A34 whilst working a CityX13 service to JR Hospital, unfortunately the shadow on the bus didn't make the picture look as good.

StreetDeck 690 on a CityX13 service to Abingdon seen by the Lodge Hill interchange having squeezed through the tight gap
at the top of the slip road where a campervan had broken down.
May 23th
Gavin Francis
May 27th
5 branded buses on an off route
651 on the 27th working route 5 and 653 working route 4 with 656 leaving Speedwell Street on a 4A.

Park & Ride StreetDecks somewhat off route!



665 is seen on St Giles with an inbound 6 and then later heading down George street with blinds set for the 35.



666 with a U1, 674 ready to leave with a 6, 677 with a 4 road to Abingdon then 678 on 2 road and 681 with an X13

.

680 is seen negotiating the roadworks at Carfax with a 400 service.

3 road branded StreetDecks off route.



682 seen with an X13 road service in St Aldates and then Redbridge, with 685 working 4 road.



683 has managed to work its branded route

.

688 is working its branded route down St Aldates.
James Lambeth

681, seen at the bottom of Halliday Hill in the Northway estate. The P&R StreetDecks are now quite a common site on the X13!

One of the two coaches currently working a two hourly LHR service heads up St Aldates. May 27th by Gavin Francis.
Unfortunately, due to the current conditions related to COVID-19, the launch of the X50 airline service between High Wycombe, Maidenhead and Heathrow Airport will be delayed until August 31st 2020 or * until coach services can return to operating as normal. Further updates will be posted on our website as soon as possible. We remain very committed to the X50 project and are looking forward to beginning the service when conditions return to normal.

From Monday 1st June 2020, our bus service levels will be increasing. Read the full press release here:… https://t.co/M38kzvq0jM
Gavin Francis
May 24th

Citaro 849 in the yard at Carousel High Wycombe on May 24th - maybe for Engineering work.
It was still there on May 26th.
May 27th

209 with an X38, 210 with an X32, 216 on an unidentified route and 219 with an X2 service all in St Aldates.

Scania 228 is seen heading for Reading via Wallingford with an X40 working in St Aldates.

Connector branded 230 is seen with an X2 service heading for Didcot.

E200 MMC 452 is seen with an ST1 service in Broad Street.

StreetDecks 622 and 623 in St Aldates with X2 services. 623 seem to lost its fleet number!!!
Many thanks to Gavin for the first significant number of pictures from Oxford in this issue. The weather has enabled Gavin to produce some excellent pictures.
Coach Travel Temporarily Suspended
Services resuming from July 1st 2020 are subject to change depending on Government advice
First Steps Towards Normality
From the beginning of next week, we will see the initial stage of restoring of our services. 70 of our driving colleagues and 30 buses will be returning to active duty to join the 140 drivers who have remained working, as our weekly mileage will increase by 50% to just over 76,000 miles. Though our customer numbers have not yet greatly increased we must be ready to provide more space on our vehicles to maintain social distancing even at the busiest times of day.
To ensure we protect our colleagues and our customers as much as we can we have taken significant strides in making our workplace and our vehicles 'Covid-secure'. You will begin to notice more of these features both in the depot and on our buses.
We have recently been reviewing the seating capacity of our fleet to ensure that social distancing can be maintained as far as reasonably possible for those customers choosing to use our services. This advisory capacity will be displayed on our vehicles and will come into effect on the 1st June.
We are also pressing forward in formalising a number of safety measures and advisory messages to customers that you will soon see on our active fleet such as hand sanitising stations fitted to every vehicle and information regarding social distancing, ensuring windows are open to improve ventilation and the use of face coverings. A more detailed explanation of what we are doing to protect our customers and what we are doing internally to protect our colleagues will be made available to you soon.
It is a fine line to tread in trying to ensure safety whilst ensuring our vehicles are inviting and there are not too many additional layers of frustration for employees. As the country begins to unlock, now, more than ever, we must do our part in ensuring the transmission of Covid-19 continues to reduce whilst playing a vital role in providing key journeys to the people we serve and slowly reinvigorating our community. It may be a frustratingly long path back to 'normality,' however, the more we do in the present, the more rapidly we are likely to see normality return.
More pictures again this week from Charles Powell
With thanks to Charles for some very interesting pictures taken earlier this week at their depot.
Increases to services from Monday, June 1st 2020:
A phased step up in bus services in Oxfordshire will commence from Monday 1st June 2020.
Alongside Oxford Bus Company and Thames Travel, we will introduce changes to start to increase the number of journeys during daytime hours on Mondays to Fridays.
https://www.stagecoachbus.com/promos-and-offers/oxfordshire/covid-19
Jack Cooper

Gold Enviro 400mmc 10782 seen on an S8 service to Wantage seen by the Lodge Hill interchange.
Gavin Francis
Gavin took these pictures in Oxford on May 27th.

MMC 10685 is seen with a 3A service to Oxford Science Park, turning out of Speedwell Street.

MMC 11237 is seen in Magdalen Street East with an S1 working. These buses are so bland and featureless!
Gold 15755, with S5 branding, is seen in Magdalen Street East with an S5 working. These buses tend not to be seen on their branded routes.

E200 36984 looking quite spruce working a 13A service to the Rail Station, seen in St Giles.
James Lambeth

36927 heading out of Marston Village to the JR on May 26th.
Service still suspended until further notice.
As a blast from the past I came across this picture taken long ago but showing an unusual working by an Oxford tube at that point in time.

The date is August 27th 2004 when megabus was just starting from Oxford to London.
If memory serves me correctly 50038 had been refurbished following a fire on the M40.
Coronavirus Update: megabus services suspended in England and Wales but continue to run in Scotland
Further details and link
Smaller operators
James Lambeth
Last week I asked if anyone had pictures of the new Barton Park Shuttle and James has kindly provided same. It is operated by a plain blue Versa ex London.
James writes "find attached some photos of the Barton Park Shuttle bus, taken around the new estate. I had some involvement in the design of the roads & drainage of Barton Park, so it was nice to see a bus finally running into the estate!
"

The vehicle is an Optare Versa, not a Solo as reported in your last issue, and is former London United OV30108.
With many thanks to James and I wonder who is the operator?
Thinking of a holiday in Orlando?


The Bahama Bay Resort is for you
Beach area Club House Lake
Click on a picture to see full size


We have 2 or 3 bedroom Condos at the beautiful Bahama Bay Resort
located 20 mins west of Disney.
Facilities include: 4 Swimming Pools - 6 Jacuzzis - a Tennis Court,
Basketball Court, Children's Splash Pad and the Beach
Restaurant & 2 Bars, Barbeque areas all in beautiful landscaped grounds.


You can see more on this Youtube Video:
For further details contact :For further details contact :
For further details contact :
bahamabaycondo@aol.com
-providing dates and prices for YOU